The annual Program and Plan Book published by WNAC provides women's ministry leaders a full year's worth of themed ideas, helps, and creative  resources for meetings and events. Designed for use with Treasure Bible Study Guide, the book offers options to uniquely tailor WNAC studies to fit each group's needs and personality, regardless of church size or women's group demographic. This volume will help leaders guide women to a deeper relationship with Christ and a desire to serve His church sacrificially. This year's edition is now a FREE download.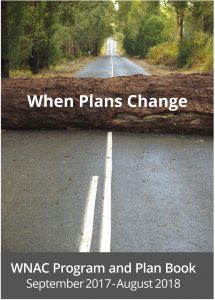 When Plans Change: WNAC 2017-18 Program and Plan Book.
A year's worth of women's ministry meeting ideas. Use with Treasure.
September, October, November – Download now.
December, January, February – Download now.