Membership
Women Nationally Active for Christ is comprised of over 4,000 women in local church women's groups. Local Women Active for Christ (WAC) groups within a geographic region or specific area form a network (WAC district) and regularly meet together for encouragement, exchange and spiritual nourishment.
Two or more WAC Districts within a state then join together and meet annually—sometimes more often for retreats and special events. Together these local, district and state groups form Women Nationally Active for Christ. WNAC includes women from both the U.S. and Canada. WNAC also has affiliate groups in Mexico, the Caribbean, Central America, West Africa and in Asia.
The map below illustrates the areas where WNAC groups are located.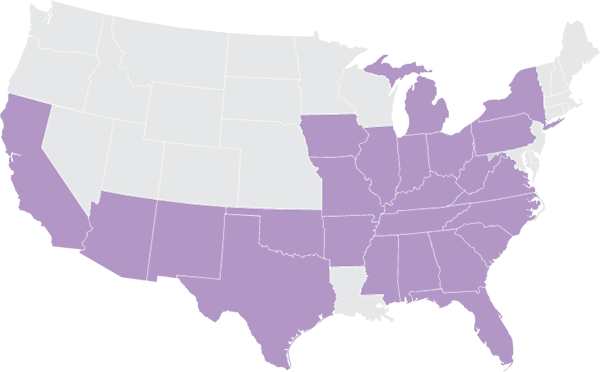 Fees (in the United States)
Like many organizations, WNAC does have a membership fee of $15.00 per year per member ($1.25 per month).*  As a WNAC member, you have a voice in the decisions made, which affect Free Will Baptist women and ministries.  You also belong to an international network of women all striving for the same purpose and goals. It is so true: together we can accomplish much more than if we work separately.
WNAC membership fees are very important to the overall function of the WNAC office.  Listed below are some of the functions of the WNAC office and what we do for our members.
Maintain the Provision Closet for our missionaries to shop for home/school supplies free of charge
Coordinate/administer all national conventions and retreats
Promote WNAC locally and worldwide
Provide support system for local, district and state WAC groups. We offer ideas, answer questions and provide encouragement for Free Will Baptist women, international workers and missionaries.
Publish Treasure Bible study guide
Design, publish and promote Bible studies for use in WAC meetings and/or individual study
Promote designated special weeks of prayer (Pre-Thanksgiving and Pre-Easter) before major World/Home mission offerings
Set and manage the overall WNAC annual budget
Receipt all monies given to missions or designated projects and disburse funds according to each WAC's instructions
Administer funds and provide student scholarships for students studying for various ministries
* Note:  District and State WAC groups may add additional fees to the national membership. Check with a WAC representative in your area.
Questions? Please use the form on the sidebar to the right to request more information.