Office Personnel
Elizabeth Hodges (pictured below, right) serves as Executive Director of WNAC, overseeing all ministries and office operations. Elizabeth's wealth of experience as a pastor's wife, mother, grandmother, WAC leader, educator and school principal assists her in this administrative role. Pray for Elizabeth as she leads the organization, plans the annual convention, travels to women's meetings and retreats, and pursues ways WNAC can minister to women more effectively.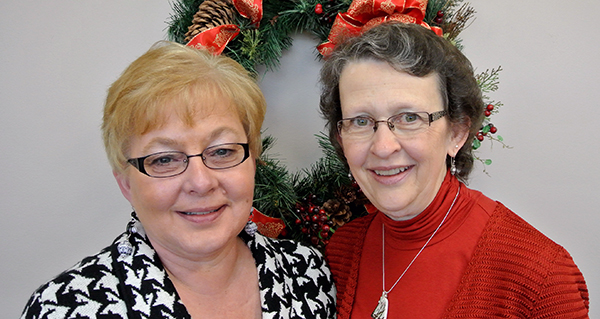 Phyllis York (pictured above, left) works as administrative assistant for WNAC and she also serves as editor/designer of WNAC's  Treasure Bible Study Guide. Phyllis is a pastor's wife and mother of three. She, too, claims a long history of WNAC involvement as a Kentucky state leader and also as a former WNAC Executive Committee secretary and member-at-large.
WNAC Board
The WNAC Office is answerable to a Board  (pictured below), elected by the National Association of Free Will Baptists. These nine women offer wise counsel and, together with the director, set policy, select WNAC emphases and themes.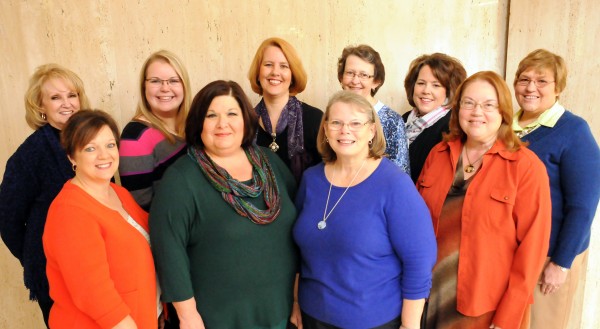 Photo (back row): Pam Hackett (SC), Sarah Sargent (OH), Amy Johnson (IN), Elizabeth Hodges, Director (TN), Jonda Patton (KY), Lee Ann Wilfong (MO) (front fow) Janie Campbell (AR), Tracy Payne (OK), Diana Bryant (FL), Susan Burgess (IL).

Meet the board:
Pam Hackett has been a teacher for many years, having served at Inman Christian School (SC), Tabernacle Christian School (IN), and Fairview Christian Academy (SC). She worked as executive assistant to the president of Sherman College (SC) and executive assistant to the CEO, COO, and CFO of Delphi Connections System in Landrum, South Carolina. She also worked as a paralegal for James Fletcher Thompson, LLC, in Spartanburg, South Carolina, and for Prudential Real Estate. She is a member of Fairview FWB Church (SC) where her husband Tim pastors. She teaches Sunday School, sings in the choir, and is church pianist. She is state coordinator for South Carolina WAC and district coordinator for Beaver Creek District WAC. Pam has been a member of the WNAC Executive Committee since 2009. Contact her at hackettp71@bellsouth.net.
Sarah Sargent graduated from Ohio State University in 2006. A third-generation member and leader in WNAC, she has been active at the local, district, and state levels since an early age. She has served as a member of the WNAC Executive Committee since 2013, serves as president of Ohio Women Active for Christ, and has been WAC local president for nine years. Contact Sarah at oreta14@hotmail.com.
Amy Johnson is head of the accounting department at Stark Enterprises, a general contracting company based in Michigan. She graduated from Welch College in 1998 with a bachelor's degree in Business Administration. She is a member of Calvary FWB Church in Salem, Illinois, where her husband Harlen pastors. She enjoys women's ministry, working with children, and being outdoors. Amy has been a member of the WNAC Executive Committee since 2009.  Contact Amy at harmybeth@gmail.com.
Jonda Patton has worked for Community Trust Bank in Pikeville, Kentucky, for 29 years. She received a bachelor's degree in Accounting from University of Kentucky in 1983 and later became a Certified Public Accountant. Jonda attends Pikeville FWB Church (KY) where her husband Jim pastors. She teaches Sunday School and works with the youth. She has been a member of the WNAC Executive Committee since 2011, served as president of Kentucky Women Active for Christ 11 years, and is active in the organization at both the district and local church levels. Contact Jonda at jbpatton@bellsouth.net.
Lee Ann Wilfong has been an active member of WNAC since she was a young adult, working in a number of leadership capacities at the local, district, and state levels, including serving as president of Missouri Women Active for Christ. She attends Leadington FWB Church, in Park Hills, Missouri, where she is the church clerk, preschool Sunday School teacher, pianist, and prayer chain leader. Contact Lee Ann at leeannwilfong77@gmail.com.
Janie Campbell has served as secretary of WNAC since 2011 and is vice-president of Arkansas Women Active for Christ. Janie and her husband Tim live in Walnut Ridge, Arkansas where he pastors First Free Will Baptist Church.  Janie helps plan the Arkansas pastor's wives retreat and is a frequent speaker at women's meetings. She has been an active member of WNAC for more than 30 years, holding offices at every level of leadership. She has also worked for Free Will Baptist International Missions, giving her a sharp awareness of the needs of missionaries.  Contact Janie at janiec.campbell@gmail.com.
Tracy Payne earned an A.A. in Business from Randall University in 1981, and a B.S. in Theology and Psychology in 1983. She has been worship coordinator for West Tulsa FWB Church (OK) since 2009. She has been the president of Oklahoma Women Active for Christ since 2007, and has held many local and district offices. A pastor's wife and mother of five children, Tracy is a frequent speaker at women's events. Contact Tracy at tracypayne3162@gmail.com.
Diana Bryant is president of  Florida Women Active for Christ. The Welch College graduate attends Ryanwood Fellowship FWB Church in Vero Beach, Florida, where her husband Randy pastors. Diana has been active at all levels of WNAC, holding various offices since 1980. Contact her at dianabryant57@aol.com.
After studying Business at Welch College, Susan Burgess went on to major in journalism at Southern Illinois University. She worked 24-years as learning project coordinator—including event planning and Human Resources—at Price Waterhouse Coopers. Previously, she was assistant editor for Contact magazine. She is the pianist at Pleasant View FWB Church (IL), where her husband David pastors. She has been an active member of WNAC on the local, district, and state levels, and is currently president of Illinois Women Active for Christ. She frequently writes articles, programs, and skits for denominational magazines and has spoken at retreats in Illinois, Tennessee, and California. She and David have one daughter and son-in-law and two grandchildren. Contact Susan at sburg1968@gmail.com.
State Officers: AL | AR | AZ | CA | FL | GA | IL | IN | KY | MI | MO | MS | NC | NM | OH | OK | SC | TN | TX | VA | WV